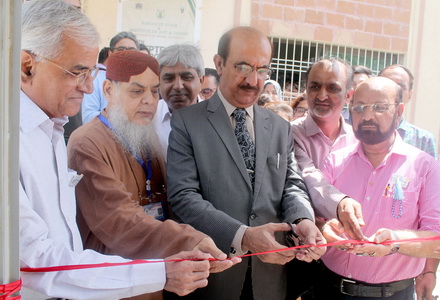 Rotary International Hyderabad collaborates with SU to set off celebration of Literacy week
Rotary Club International Hyderabad in collaboration with Institute of Art and Design, University of Sindh, Jamshoro and Rotaract Club Jamshoro organized a solemn inaugural ceremony to open literacy week. SU Vice Chancellor Prof. Dr. Fateh Muhammad Burfat graced the program as Chief Guest at SU Benazir Art Gallery of the Institute of Art and Design.
Vice Chancellor Dr. Burfat in his views expressed on the occasion immensely lauded the noble initiative of celebration of literacy week by Rotary Club Hyderabad in loop with SU turning it "Significant".
Dr. Burfat said that 40 percent people in Pakistan still lived under poverty line with less than one dollar daily income.
"It is imperative upon us the educated and the enlightened to reach out to poor masses, to reduce poverty and to resolve issues," Dr. Fateh Muhammad said.
The Vice Chancellor added that only by raising awareness, promoting culture of education, disseminating knowledge and imparting wisdom one could fight and defeat monsters like disease, destitution, hunger and other social ills.
SU Arts Faculty Dean Prof. Dr. Hafiz Abdul Ghani Shaikh said that Islam highly valued seeking of knowledge so much so that it mandated it for all from cradle to grave. Dr. Shaikh said that education helped man serve mankind.
Rotary Club Hyderabad President Prof. Suresh Kumar Wadhwani said that Rotary Pakistan Literacy Mission had mandated itself to enhance literacy rate, promote reading culture and create opportunities for masses to widen their academic scope.
"It is with the above mission in mind that we are celebrating this literacy week. We have established 35 ground and 5 mobile libraries across Pakistan in the past, under this initiative.
Rotary Club Hyderabad Immediate Past President Dr. Rafiq-ul-Hassan Khokhar informed that Rotary International had a worldwide membership pool of 1.2 billion; it had spent 35 billion rupees for eradication of polio across globe and it had been reaching out schools, college, universities, neighbor hoods and communities with a view to improve peoples' quality of life.
Director SU Institute of Art and Design Prof. Saeed Ahmed Mangi, Rotaract Club Qasimabad President and Vice President Sawera Alam and Aisha Alam and Rotaract Club Hyderabad Vice President Ahsan Jatio also spoke on the occasion.
SU Vice Chancellor's Media Advisor Dr. Ghulam Ali Buriro, Prof. Ghulam Murtaza Khoso, Prof. Naimatullah Khilji, Rotarians from across the region, President Rotaracat Club of Jamshoro Optimists Benazir Shaikh, faculty, civil society activists and a large number of students were in attendance.
Two important features marked the significance of the ceremony – one, mobile library service was inaugurated by VC-SU Prof. Dr. Fateh Muhammad Burfat; two, students of Institute of Art and Design prepared on-the-spot paintings and sketches highlighting the day's theme.