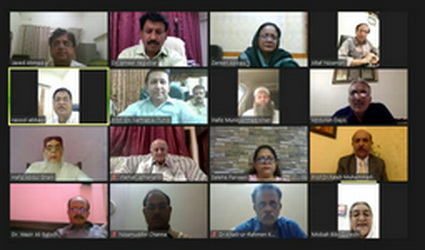 SU Advanced Studies and Research Board meets, 5 scholars awarded PhD, another 64 M. Phil degrees from across various disciplines
The 135th meeting of the Advanced Studies and Research Board (ASRB) of University of Sindh was held through Zoom Cloud interface option with VC-SU Prof. Dr. Fateh Muhammad Burfat in the chair. The meeting approved award of PhD degree to 5 scholars and M. Phil degree to 64, totaling up to 69 scholars cutting across multiple academic departments/institutes/disciplines.
The house registered special appreciation for SU vice chancellor Prof. Dr. Fateh Muhammad Burfat saying they were glad to witness smooth execution of all important Varsity affairs through virtual interaction despite Pandemic restraints.
Apart from permanent learned Board Members, SU Registrar Dr. Ameer Ali Abro and SU Director Research and Graduate Studies Dr. Sarfaraz Ali Tunio were also in attendance at the meeting.