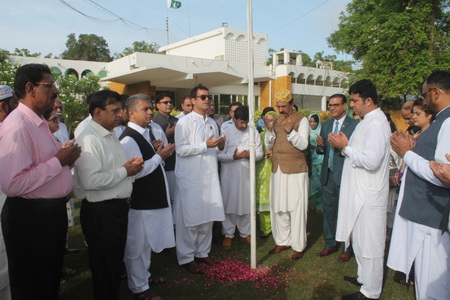 Independence Day celebrations underway at SU
The 72nd Independence Day of Pakistan is being celebrated at the University of Sindh, Jamshoro with unprecedented enthusiasm and fervour amid series of events.
The main feature of the day long celebrations was organized at vice chancellor house where the VC Prof. Dr. Fateh Muhammad Burfat hoisted the national flag along with deans of various faculties, directors of institutes/ centers, heads of academic departments and administrative sections.
On the occasion, the atmosphere took on an electric animation as the mesmerizing tunes of national anthem went afloat across the width and breadth of VC house packed with faculty, officers, employees and their families.
Afterwards, a national song "Sohni Dharti Allah Rakhay Qadam Qadam Abad" was sung by Junaid Malik and Salal Mughal with national zeal and zest compelling the audience to sway and swoon to the bewitching beats of the number. This duet (Milli Naghma) spellbound the mesmerizing listeners immensely.
Addressing the ceremony, the vice chancellor Prof. Dr. Fateh Muhammad Burfat said that Pakistan was their pride, identity, love and land that had come into being on account of innumerable sacrifices of their elders.
"This day reminds us of the formidable pre-independence ordeals our elders had to undergo before they became able to seek a separate independent state for us", he said and added that it reminded Pakistani masses of their predecessors' inspiring struggle.
He said that the Independence Day brought before the nation the unforgettable commitment, conviction and success of the leaders under the awe-inspiring leadership of Quaid-e- Azam Muhammad Ali Jinnah.
The Vice Chancellor further maintained that it became collective obligation of all to serve Pakistan to the best of their ability, acumen, conscience and individual integrity.
He said that India had stretched itself to the ultimate limits of brutal excesses in utter disregard and blatant violations of UN resolutions in the matter in the Held Kashmir.
"Dropping of cluster munitions, restricting public movement, scuffling freedom of expression as well as opinion and subjecting the populace to the worst imaginable atrocities are doomed to disappear soon as people, armed forces and Government of Pakistan continue supporting their innocent Kashmiri brethren." he said.
The dawn of freedom for Kashmiris is about to arrive and Kashmir is going to be part of Pakistan, Dr. Burfat said.
It may be noted the series of events are further lined up; as after 3 pm the general officer commanding (GOC) Hyderabad Major General Muhammad Kashif Azad, additional inspector general (AIG) Hyderabad division and other dignitaries would grace the occasion with their presence. The friendly cricket and football matches would be played between Sindh police and university