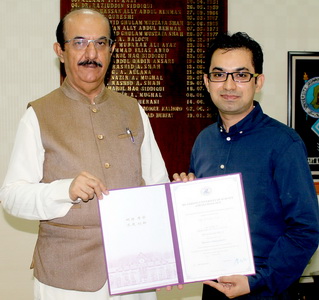 SU faculty returns home after completing his PhD from China, calls on Vice-Chancellor
Dr. Naeem Gul Gilla of Department of Business Administration, SU Mirpurkhas Campus called on SU Vice-Chancellor Prof. Dr. Fateh Muhammad Burfat after returning home, completing his PhD from Huazhong University of Science and Technology, China.
Dr. Gilal shared the details of his research project with VC-SU Dr. Burfat which he carried out abroad. He also briefed the Vice-Chancellor on the significance of his endeavors.
On the occasion, Dr. Burfat congratulated the scholar upon his sparkling success; and observed that it was very brave and extraordinary on his part that despite being a young faculty, he exhibited immense academic and professional strength by completing his research project in a foreign land successfully in time.