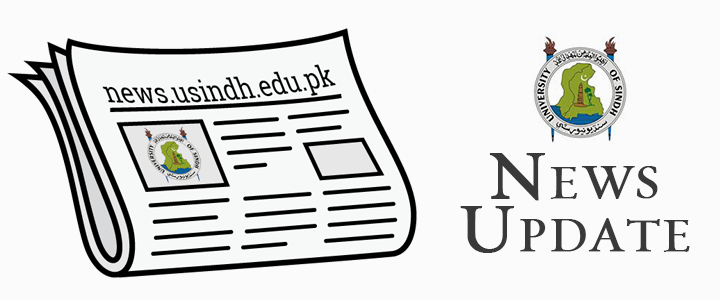 Sindh University inks MoU with Malaysian University to strengthen academic cooperation
Sindh University inks MoU with Malaysian University to strengthen academic cooperation
The University of Sindh and the University Putra Malaysia (UPM) Monday signed a Memorandum of Understanding (MoU) to carry out collaborative research, exchange of scholars and establish educational cooperation between the two institutions.
The Vice Chancellor University of Sindh Prof. Dr. Fateh Muhammad Burfat and his Malaysian counterpart Prof. Datin Paduka Setia Dr Aini Ideris of UPM inked the agreement at Vice Chancellor office Jamshoro.
The MoU also includes academic exchanges, mutual visits of faculty members to pursue research and to deliver lectures, and student exchanges on a reciprocal basis. In his presentation, the Vice Chancellor Prof. Dr. Fateh Muhammad Burfat highlighted the achievements of Sindh University in his tenure and said that the University Putra Malaysia was one of the top research universities in Malaysia and had achieved high scores consistently for its teaching, learning and research activities.
The University Putra is an international institution with a global reputation for excellence in leading-edge research and it was an honour for his varsity to work with one of the Malaysian's leading universities, he said.
He observed that mutual academic and research interests in the field of higher education, practical demonstrations, hands-on training and dissemination of knowledge on long term non-commercial basis had been planned adding that Sindh University and University Putra Malaysia, whose faculty he said had rich experience, would help each other in the promotion of knowledge transfer and information.
Professor Datin Paduka Setia on the occasion appreciated the efforts of University of Sindh for signing MoU and said that many goals and objectives, including identifying opportunities for exchanges, cooperation, joint research and development in disciplines of mutual interest can be achieved under this international partnership programme.

He said that his university will closely work together with the University of Sindh in the days to come adding that the exchange of faculty members and students will greatly benefit both sides.