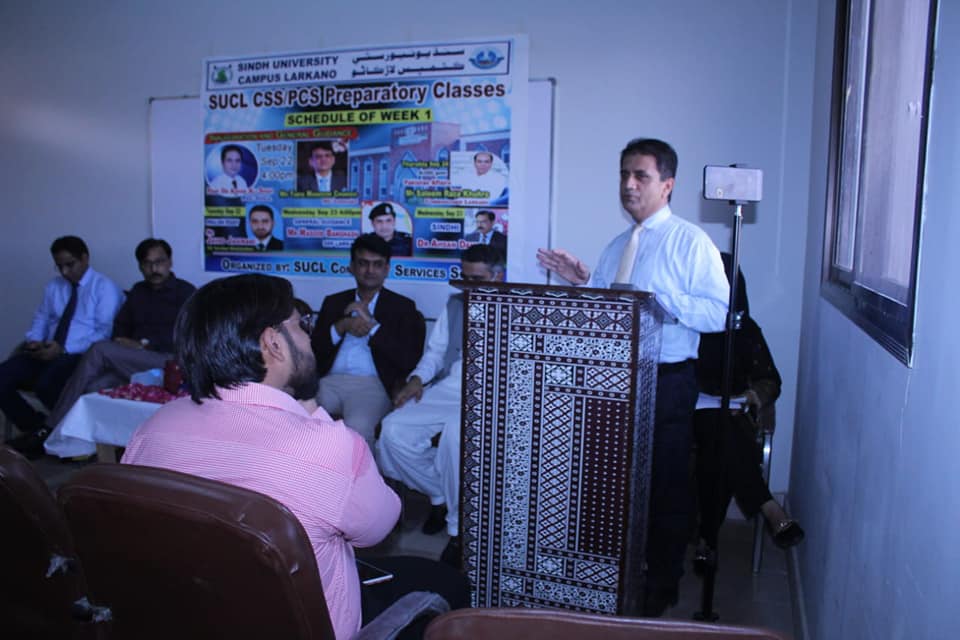 SUCL Inaugurates CSS/PCS Preparatory Classess
Sindh University Campus Larkano is providing free of cost coaching classes for all the youth of Larkano and surroundings interested to appear in the competitive exams. More than 20 female and 40 male aspirants got selected for coaching classes out of 159 applicants.
Inauguration ceremony was jointly performed by SUCL Pro Vice Chancellor Prof Dr Azhar Ali Shah, Deputy Commissioner Larkano Hon Mr Tariq Manzoor Chandio, Deputy Commissioner Qambar Hon Mr Javed Jagirani, eminent writer and scholar Dr Ahsan Danish, HoDs Mr GM Shaikh, Mr Asif Jamali, SUCL CSS Incharge Mr Aamir Magsi, SUCL Community Service and Leaders Society Presidents Mr Arsalan Mangi, Mr Athar Channa, Ms Tayaba Mangi and others.
All the speakers appreciated this new initiative at SUCL and provided useful guidlines for the aspirants. The inauguration ceremony shall continue for the remaining days of the week with more officers from civil service and senior professors.