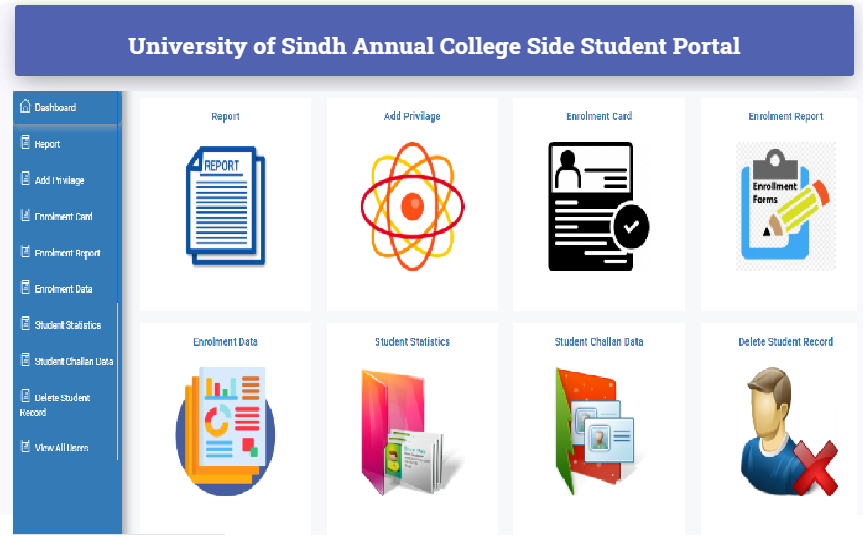 Annual College Side e-portal Update on Examination Forms for Associative Degree programs of 2020
Annual College Side e-portal Update on Examination Forms for Associative Degree programs of 2020
It is to Inform all Affiliated College students of Associated Degree programs that The Exam Form feature has yet not been enabled, as we still working with the University Registrar office to solve some matters related to Enrollments and other technical issues. So NO need to worry, Once enabled you will be informed via your e-portal.
You must pay the Exam fees, and upload the challan copy on the e-portal so that you can fill the exam form. Once the Challan is paid, upload the scan copy of the challan on the e-portal again. Note the file size must be less than (2mb).
Now the Enrollment Cards are being issued Digitally and once generated by the university, the Digital Enrolment Card will appear on your e-portal account. After the enrolment cards are generated for All affiliated colleges, the Exam Form will be enabled.
Exam form will also be filled online, and you will get a digital Slip/Admit card also online directly from your e-portal, after verification of your documents from the Annual Controller Ofice.
For further query or issue email to [email protected]
Help Desk
Directorate of Information Technology Services Center (ITSC)
The University of Sindh. Jamshoro
annual.usindh.edu.pk