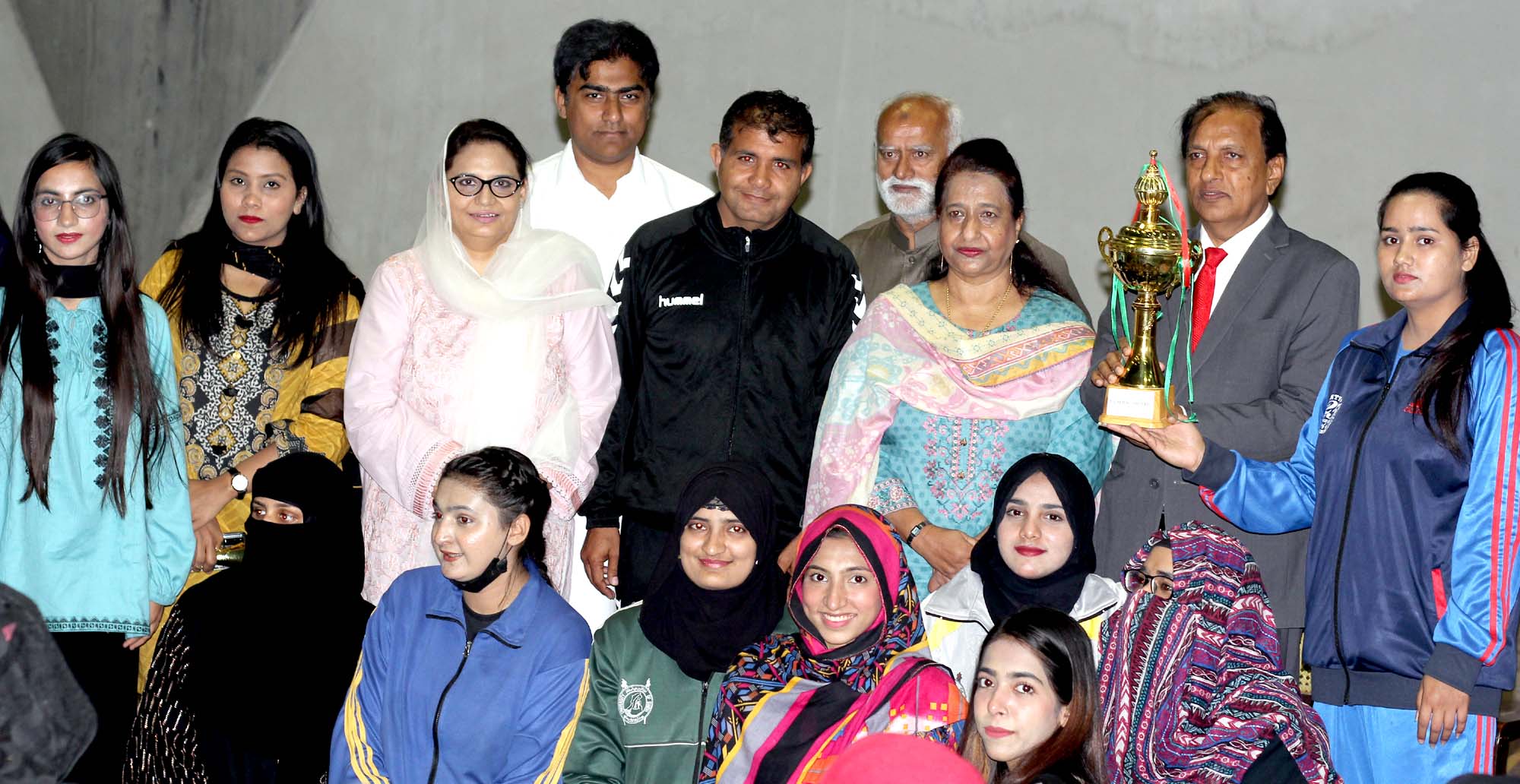 Female students must partake in sports activities in a bid to remain hale and hearty, says SU Vice-Chancellor Dr Kalhoro
Sindh University Vice-Chancellor Professor (Meritorious) Dr Muhammad Siddique Kalhoro has said that sports activities are being promoted in Sindh University; however especial attention has been paid to provide the female students with different gaming facilities at Marvi Girls Hostel in a bid to keep them hale and hearty.
He said if the minds of the girl students would be unsullied and fresh, then they could read better and stay away from negative activities adding that Miss Mukhtiar Bhatti played a momentous role as Director Sports (Girls) and she always remained on the go and gave much love to the girls like daughters.
This he said while addressing the prize distribution ceremony organized by the Directorate of Sports (Girls) at Madar Millat Fatima Jinnah Girls Gymnasium, University of Sindh Jamshoro.
The Vice-Chancellor further said that the basketball, volleyball and table tennis facilities had been provided at Marvi Girls Hostel so that the hostel students might participate in sports whenever they had time adding that playing the different games will keep them physically and mentally strong, fit and healthy.
He went on saying that if the human mind was fresh then; one could easily read, write and understand the books genuinely while referring to them; therefore he urged the students, especially girls, to work hard with full dedication, devotion and commitment in order to grab positions in their concerned disciplines.
He further said that the female faculty members should also come to the gymnasium and participate in basketball, volleyball, table tennis and other games as the sports were essential for fitness and quality of life.
"Physical Education and Library Science are two job-oriented disciplines as there is great demand of these degrees in the national employment market, but it is surprising that nowadays youths choose different other departments ignoring these two", he lamented and added that youngsters with degrees in physical education and library sciences were highly required in schools and colleges while their initial appointment could be in grade 17.
Dr. Kalhoro said that correspondence was going on with the officials of Pakistan Cricket Board for repairing the PCB ground situated at the University of Sindh; however, a proposal would be submitted to the Sindh government for construction of a complex around the ground in order to make it at par with national stadiums of Pakistan.
He said that after the construction of the pavilion at PCB Cricket Ground, Pakistan Super League (PSL) matches could be played on it, illustrating that there was no law and order issue in the premises of SU.
The Vice-Chancellor said that female students were varsity's responsibility because their parents trusted SU and admitted them on the campus adding that the students should also trust the university administration and report immediately to it in case of any untoward situation.
He said that some elements were always active in creating a bad impression about the University of Sindh but the female students should reject such impressions through their posts on social media and tell the people of Sindh as to how much better environment had been provided to them on the campus and in the hostels.
He said that the services rendered by Miss Mukhtiar Bhatti in all capacities especially as Director of Sports (Girls) were excellent, commendable and would always be remembered.
At the ceremony, SU Vice-Chancellor Dr. Muhammad Siddique Kalhoro distributed shields and prizes among the students who secured positions in inter-departmental competitions during 2018-19. On the occasion, the Vice Chairman Sports Prof. Dr. Akram Ansari, Director Sports (Girls) Miss Mukhtiar Bhatti, Director Sports (Boys) Ajaved Ahmed Bhatti, Prof. Dr. Khalil-ur-Rehman Khambati, Iqbal Memon, Dr. Zareen Abbasi, Prof. Dr. Soniha Aslam, Prof. Dr. Wazir Ali Baloch, Prof. Dr. Khalida Faryal Almani, Prof. Dr. Arfana Mallah, Prof. Dr. Ghazala Panhwar, Prof. Dr. Nek Muhammad Shaikh, Prof. Dr. Ashique Jhatial, Jan-e-Alam Solangi, Dr. Muhammad Younis Leghari, Syed Sajjad Hussain Shah, Manzoor Ali Panhwar, Tasleem Mirza, Ghulam Nabi Kaka, Abdul Majeed Panhwar, Abdul Hameed Mahesar and others were also present.
Earlier in her welcome address, Miss Mukhtiar Bhatti said that she was retiring on March 8 from the university service adding that she did as much as she could for the University of Sindh.
She said that due to COVID-19 in 2020 and 2021, shields and cash prizes could not be handed over to the children who got positions in the sports competitions held in the year 2018-19.
"They are being handed over the same today at this memorial ceremony", she said. At the juncture, the students stood up to show their respect for her and applauded her.
In the end, the Vice-Chancellor inaugurated the newly donated water cooler installed at the entrance of the gymnasium and prayed for the late parents of Miss Mukhtiar Bhatti.