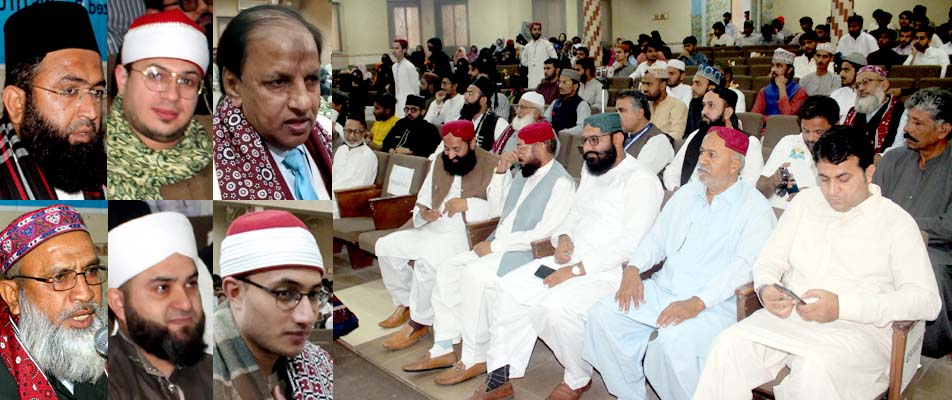 SU holds first International Husn-e-Qirat Conference; Qaris from Egypt, Syria enthrall audience
Sindh University's Institute of Languages (Arabic & Persian) organized the first ever International Husn-e-Qirat Conference with the Vice-Chancellor Professor (Meritorious) Dr. Muhammad Siddique Kalhoro in the chair in Shaikh Ayaz Auditorium of Arts Faculty Building here on Thursday.
Qaris hailing from Egypt, Syria and Pakistan enchanted the teachers, officers & students sitting in the hall by reciting the Holy Quran magnificently and marvelously that greatly impacted on the minds of participants. On the occasion, the auditorium hall resonated and reverberated with the voices of Subhan Allah (All praise be to God Almighty).
The conference on Husn-e-Qirat (Beautiful recital) was started with the recitation from Holy Quran performed by Qari Siraj while Qari Ahmed Ali Abbasi presented Naat.
Afterwards, Qari Islam Fikri Abdul Sattar who came all the way from Egypt recited the Holy Quran in such a beautiful and touching way that the voices of Subhan Allah were heard everywhere in the hall. There was so much sweetness and charm in his voice that the participants were totally spellbound, captivated and awestruck.
Later, Shaikh Muhammad Wajih Diwan also hailing from Egypt received great acclamations and approbations on extremely beautiful recital of the Holy Quran. The way of his recital was unique, charming and pleasing on which the audience could not help saying 'Masha Allah' (What God wills).
He recited every verse of holy Quran in a way that for a moment the listeners were assuming that he would take a sigh at the point but he did so after completing the entire verse reading it delightfully.
Famous Naat reader Qari & Hafiz Hamdi Kanjo Atakhzoni from Syria, whose admirers are present all over the Arab world, captivated the audience by presenting his famous Arabic Naat. His famous Naat is "Al-Nabi Salu Alaih, Salwatullah Alaih" which was later recited by Muhammad Owais Qadri in Pakistan and gained great fame.
Su's Dean faculty of Islamic Culture Dr. Hafiz Munir Ahmad Khan also recited some verses from the Holy Quran beautifully and received accolades from the participants.
Addressing the conference, SU Vice-Chancellor Professor (Meritorious) Dr Muhammad Siddique Kalhoro said that it cost Rs. 10 million to produce a PhD from abroad but the Madrasas were preparing Hafizs of the Quran without spending money.
"Allah Almighty Himself helps those who intend to memorize holy Quran", he said and added that the recitations of Holy Quran by Qaris from Egypt at the conference were heartwarming and pleasing.
He said that it was the great perfection of the reciting Qari to complete the verse by reciting it in one breath adding that recitation of the Holy Quran refreshed and revitalized the human minds and spirit; therefore, it was necessary to listen to the Holy Quran, understand and act upon it.
Dr Kalhoro said that female students of Sindh University were also fond of carrying out beautiful recitation of the Holy Quran but they didn't have access to such institutions to learn the modus operandi of stunning recitals.
"There is a lack of institutes to teach the youth beautiful recitation (Qirat) in the country, due to which it is difficult for especially students to gain knowledge of it but they still do so on their own which shows their eagerness towards our religious book", he said.
He said that M.Phil in Arabic was being offered at Sindh University while the PhD program will also be started adding that Arabic being the language of Holy Quran was an international language like English which needed to be learnt.
He announced that a training course in Arabic language would be started soon just like that of language courses of Chinese and Japanese so that the young people could learn Arabic and understand the Quran directly.
Speaking on the occasion, PPP MPA Mumtaz Ali Chandio congratulated the conference organizers including the Director Institute of Languages Mufti Dr. Sahibzad Khan Sikandari, Nazar Ali Chandio and others and said that a wonderful program had been organized regarding Husne-e-Qirat (Beautiful recitation) which had greatly mesmerized him too.
"I am elated to have the privilege of participating at this conference", he said.
Member Islamic Ideological Council and Director, Shaikh Zayed Center Dr. Noor Ahmed Shah said that Arabic language needed to be taught as a subject in the first and second semesters at the universities like that of English.
He said that efforts should be made to conduct six-month short courses and one-year diplomas for teaching Arabic so that the youth might take interest in learning it.
Director Institute of Languages Mufti Dr. Sahibzad Khan Sikandari, Nazar Ali Chandio, Qari Hafiz Muhammad Aqrab Rizvi, Qari Tahir Muhammad Awan, Abdul Majeed Panhwar, Kashif Ali Narejo and others also participated at the delicate conference.
A large number of female students were also in attendance at the conference. At the juncture, 3-students who took part in Naat competitions at the outset of the conference including Naveed Baghio, Khalil-ur-Rehman and Hafiz Ashfaq Hussain Chandio were awarded first, second and third positions respectively and they were given cash prizes.
The conference ended with recitation of Durood Salawat Salam by Qari Hamdi Kanjo Atakhzuni. All the people present in the hall including the Vice-Chancellor and Pakistan Peaples party MPA stood up in respect of Durood Sharif.