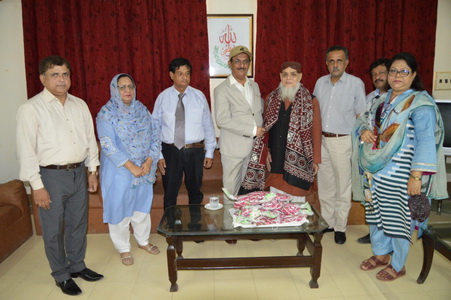 SU sees the retiring Dean off in an elegant ceremony
It was a souber sight to see as SU Vice Chancellor Prof. Dr. Fateh Muhammad Burfat decorated with Ajrak, Sindhi cap, and rose-garlands the outgoing Dean of SU Faculty of Arts Prof. Dr. Hafiz Abdul Ghani Shaikh upon the superannuation of his service at Sindh University.
Complimenting Dean Dr. Shaikh upon successful, smooth, and productive completion of his service, Dr. Burfat paid him glowing tribute for his selfless services, achievements, contribution, and dissemination of knowledge and wisdom as a teacher par excellence.
"Once a teacher always a teacher; teachers continue spreading light. They never retire as they carry on benefitting mankind by their accumulated insights, experience and sagacity", the VC said.
Dean Dr. Shaikh said he thoroughly enjoyed working with SU Vice Chancellor Prof. Dr. Fateh Muhammad Burfat who he also learned a number of administrative knacks from.
A large number of academic and administrative heads and faculty were in attendance at the ceremony.