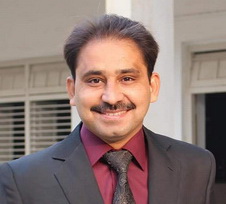 VC-SU Prof. Dr. Fateh Muhammad Burfat condoles sad demise of SU faculty
Sindh University Vice Chancellor Prof. Dr. Fateh Muhammad Burfat has expressed deep sense of shock and grief over the sad and sudden demise of Dr. Aftab Ahmed Charan, Assistant Professor, and Head, Department of English, Shaheed Mohtarma Benazir Bhutto Sindh University Campus Dadu.
Dr. Burfat, in a special condolence message to the bereaved family of the late professor, observed that the newsfeeds that he had been witnessing on various social media channels portrayed Dr. Charan as a first-rate faculty with distinct achievements to his credit in young age.
Referring to the remarks of those who were close to Dr. Charan, Dr. Burfat said Dr. Charan enjoyed huge real life and social media following on account of his academic competence and rare personal virtues.
" My heart goes out to Dr. Charan's aging grieved parents, his spouse, two sons, a daughter and the rest of the family in this hour of profound pain", the VC added.
He said condolence messages on Facebook over Dr. Charan's tragic demise from the UK, Malaysia, Thailand, Saudi Arabia, Australia, Canada, Vietnam, and other world countries bespoke of his international reputation as academic and his endearing nature as a person.
Terming Dr. Charan' departure to the eternal abode a huge loss for Sindh University and the academic world, Dr. Burfat said that the University would do all it can to help Dr. Charan's family.
He prayed to Almighty God to rest Dr. Charan's soul in the highest realms of heaven and accord his family and friends the strength to forebear this irreparable loss with fortitude.