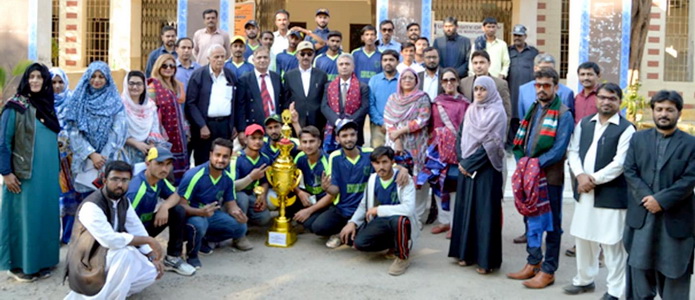 Sindh University Campus Mirpurkhas convenes 10th Annual Sports Gala
Sindh University Campus Mirpurkhas organized 10th Annual Sports Gala for the students of the campus from February 3 to 10, 2020 at the campus. The students participated in various games with full zest and enthusiasm. The Gala featured cricket, table-tennis, tug-of-war, PUBG and 100-meter race. Inter-department cricket tournament was the most important part of Sport Gala in which teams of all six departments participated. The final was played between Department of English and Business Administration. Department of English won the final and became champion of 2020 in the campus.
SU Vice Chancellor Prof. Dr. Fateh Muhammad Burfat graced the conclusion ceremony as Chief Guest. Mr. Pir Hassan Shah Jeelani, Mr. Hotchand, Prof. Dr. Azhar Ali Shah, Focal Person Larkana Campus and other distinguished guests were also in attendance.
Talking to the audience, Vice Chancellor, Prof. Dr. Fateh Muhammad Burfat said that sports activities were very essential for academic activities. A healthy body had a healthy mind too. He further said that sports activities kept students very active in their studies. Students participating in sports were much energetic and strong physically and mentally both. He expressed his joy over the facility of cricket ground in the campus and appreciated the efforts of Dr. Ismaili for the successful arrangement of