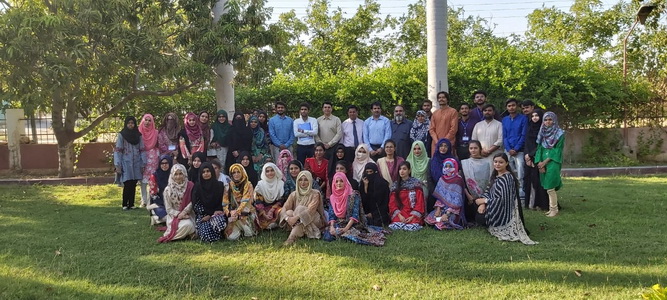 Training program on LQMS (Laboratory Quality Management System) and Biosafety Part-II, 8-10 October, 2019 for Institute of Microbiology, University of Sindh, Jamshoro, in Collaboration with World Health Organization.
A second segment of WHO training started on 8 October, 2019 at 9 am.
Dr. Nazir Ahmed Brohi, welcomed all the guests and participants.
Dr. Brohi explained the Goal and Objectives of program.
The program was inaugurated By Dean Faculty of Natural Sciences, Prof. Dr. Abdul Rasool Abbasi.
It began with recitation of few verses from Holy Quran.
Pre-test was conducted before start of training followed by the sessions including,
Introduction to LQMS, Bio-safety, Donning and doffing PPE, hand hygiene, Biological containment levels, working in bio-safety, Risk mitigation, waste management and IBC, occurrence management, Occupational health, medical surveillance prog, Step-wise LQMS implementation, LQSI tools and final evaluation of training, internal \audit and external assessment/accreditation and Quality control for quantitative and quantitative test.
Finally post-training test was conducted at the end of all sessions.
All the sessions were informative with well-organized and interactive activities by facilitators from former training.
All participants took interest and performed the activities with full energy and determination.
Closing and distribution of certificates were held on 10-10-2019 by 3:30 pm.
The Dean faculty of Natural Sciences, Prof. Dr. Abdul Rasool Abbasi, Prof. Dr. Agha Asad Noor and Prof. Dr. Ghulam Akber Mahesar graced the occasion.
Dr. Nazir Ahmed Brohi, Assistant Professor, Institute of Microbiology, elaborated the content of training program.
Worthy Dean appreciated and commented that Dr Nazir has done an amazing job by organizing this training program with all his energies and also suggested the same for future.
He further appreciated and encouraged this type of collaboration of WHO with Institute of Microbiology for betterment of laboratory management and bio-safety.
Certificates were distributed by Prof. Abbasi Sb Dean, Faculty of Natural Sciences, University of Sindh among participants, facilitators and volunteers.