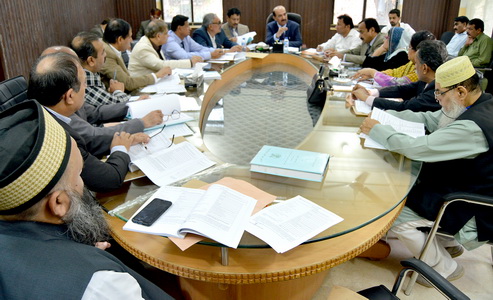 Special meeting of SU Advanced Studies and Research Board held, 7 scholars awarded PhD, another 25 M. Phil degrees from across various disciplines
A special meeting of the Advanced Studies and Research Board (ASRB) of the University of Sindh was held at the committee room of the Planning and Development office with VC-SU Prof. Dr. Fateh Muhammad Burfat in the chair. The meeting approved the award of Ph.D. degree to 7 scholars and M. Phil degree to 25, totaling up to 32 scholars.
Those who received PhD degrees included Nasrullah Leghari, Naimatullah Soomro, Mumtaz Qaboolio, Sania Qureshi, Imran Ali Halepoto, Bakhtawar Soomro, and Muhammad Ramzan Soomro.
The house also approved the award of M. Phil's degree to 25 candidates in the order of disciplines cited ahead: Pharmacology, Public Administration, Education, Muslim History, Islamic Culture, Analytical Chemistry, Biochemistry, Chemistry, Physiology, Statistics and Zoology.
SU Registrar Dr. Ameer Ali Abro, SU Director Research and Graduate Studies Dr. Sarfaraz Ali Tunio and other learned members of the Board were in attendance in the meeting.