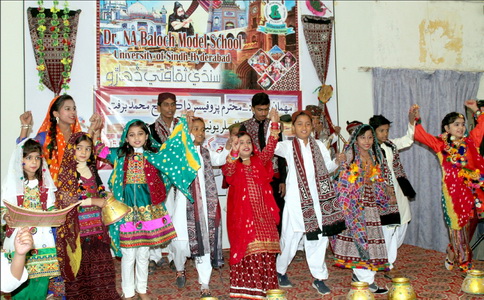 Culture Day celebrated at SU Model School Hyderabad
Culture comes as a big identity-marker for any nation. Intellectually-alive nations not only celebrate their culture but also seek to profess it to the world. Pakistan possesses radiant and diverse cultural fabric.
The above views were advanced by VC-SU Prof. Dr. Fateh Muhammad Burfat as Chief Guest at Culture Day held at Dr. N.A. Baloch Model School, Hyderabad.
Dr. Burfat stressed the need for revival of culture of quality education which was the hallmark of ancient intelligentsia in Sindh and Pakistan.
"The imposing architectural structure of the premises of Dr. N.A. Baloch bears immense cultural significance; which we need to preserve and promote", Dr. Burfat said.
School Principal Dr. Farida Shaikh presented welcome note and shared details of the reforms she had been able to undertake after her assumption of office.
Cultural skits, songs and dance performances marked the festivities of the day.
Later, Vice-Chancellor Dr. Burfat and others laid floral wreaths at the 'Samadhi' of school pioneer Deewan Pirbu Das Sevak Ram Advani.
On the other hand, a befitting plantation ceremony was held at SU Marvi girls hostel in collaboration with Research and Development Foundation's (RDF's) Empower Youth for a Work project in which Vice Chancellor Dr. Burfat planted a sapling as the Chief Guest in the accompaniment of SU Plantation Incharge Dr. Nabila Shah, Provost Ms. Waheeda Baloch and RDF Project Manager Syed Kazim Shah.