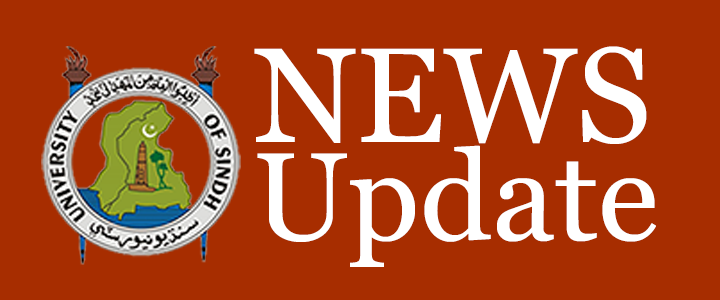 Sindh Varsity Vice Chancellor Prof. Dr. Fateh Muhammad Burfat interacts online with pro vice chancellor/focal persons of SU additional capmuses to devise conigent virtual academic plan in the face of pandemic situation
Sindh University Vice Chancellor Prof. Dr. Fateh Muhammad Burfat held special online meeting with the heads of SU additional campuses to deliberate teaching-learning scenario in case the continuing lockdown stayed intact even after the expected time zone that is to end on May 31, as Covid 19 still did not exhibit any encouraging signs of let-up.
The VC said SU campuses were important and integral academic and administrative arteries of the varsity, catering higher education needs of youth in Sindh's rural centres. He hoped that the campuses too would embrace without hesitation the proposed plan to shift to online academic and research options.
The Vice Chancellor was joined in this online discussion by Prof. Dr. Rafique Ahmed Memon, PVC SU Thatta campus, Prof. Dr. Munirrudin Soomro, FP, SUSMMB campus Dadu, Prof. Dr. Syed Azhar Ali Shah, FP SU-SMBB Larkana campus, Prof. Dr. Imamuddin Khoso FP SU Mirpurkhas campus and Prof. Dr. Wazir Ali Baloch, FP KSAS SU campus Naushaero Feroz, SU Registrar Dr. Ameer Ali Abro, Instiute Directors, Department Chairpersons and faculty from within the given campus domains.
The PVC and FPs in attendace in this virtual vis'-a-vis' informed the Vice Chancellor that all teachers at their respective campuses had already conferred students with 40 marks assignments that would be accounting for the midterm examinations they would have taken if all were normal.
The Varsity's Director Internet Services Dr. Yasir Arafat Malkani informed that they were working on a parallel plan that comprised two options: A and B. He added that as per option A they were exploiting social media tools like email communication, FaceBook page links, Google devices and WhatsApp streams to academically interact with students; adding that as per option B they were developing a full-fledged and efficient Virtual Learning Management System (VLMS) with a view to integrate teaching-learning materials being prepared by faculty through student E-portal medium and other online domains if the lockdown situation prevailed beyond anticipated timeframe.
Academic Heads of various teaching departments of the camouses shared with Dr. Burfat that they had already impressed upon faculty within their respective venues to begin working on developing and designing online teaching modules to administer in case the need arose.
Thanking all in connectity, the Vice Chancellor expressed the hope that by unfliching faith and academic devotion; they would be able to overpower the epidemic threat consequences at the campus.