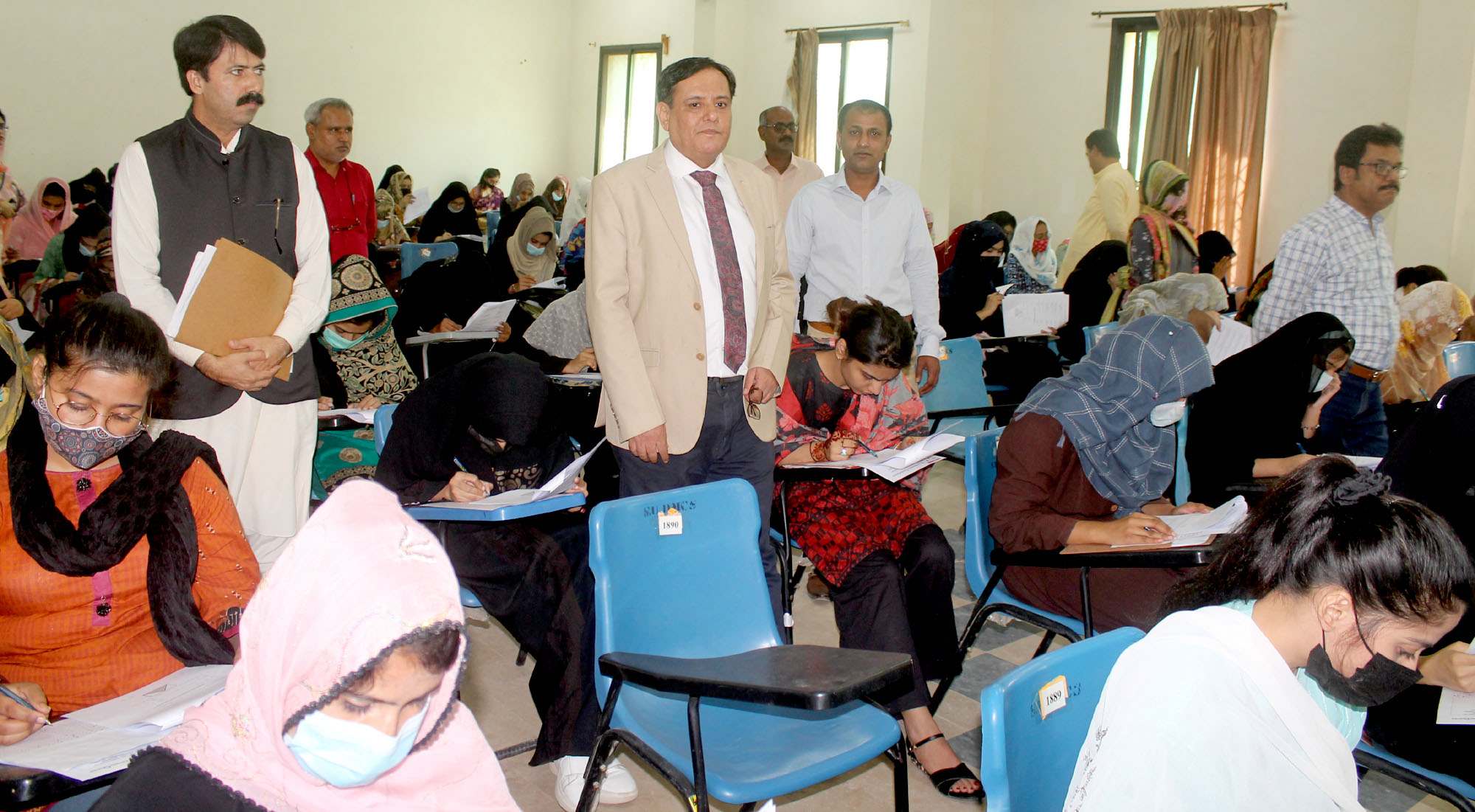 SU starts taking pre-entrance test in phases as 5868 candidates including 2028 female appear in exam for admissions to various 57 disciplines
In order to halt COVID-19 proliferation, the University of Sindh (SU) management has started taking pre-entry test in phases as 5,868 candidates including 2028 girls appeared in the pre-entry test in phase-I for admissions to various 57 disciplines of the bachelor degree programme for academic session 2022 here on Saturday.
The entrance test was held at SU's Allama I.I Kazi campus Jamshoro in a bid to give admissions to the candidates based on merit at main as well as varsity's constituent campuses situated at Hyderabad, Badin, Dadu, Mirpurkhas, Larkano, Thatta & Naushahero Feroz.
An SU spokesman in a press release said a total number of 25,000 male and female candidates from various districts of Sindh, Balochistan, KPK, AJK, Punjab and Gilgit-Baltistan had applied for admissions to various bachelor degree programs and as per decision taken in a meeting of deans, pro-vice chancellors and focal persons chaired by the vice chancellor Prof (Meritorious) Dr. Muhammad Siddique kalhoro, the arrangements were made to take the test in phases.
He said in first phase on Saturday 3840 male and 2028 female (a total of 5868) appeared in the test for which many blocks were established in Institute of English Language & Literature, Institute of Business Administration Institute of Commerce, Arts Faculty Building, Institute of Microbiology, Institute of Biochemistry and Institute of Biotechnology. The test slips/admit cards were already issued to the candidates through their eportal on varsity's website. There were 100 questions in the test for which each candidate had 90 minutes to answer.
The test was started at about 10:32 am after offering fatiha for the exculpation of the departed soul of the director of Institute of Languages Dr. Hafiz Zain-ul-Abideen Sodhar who was killed on resistance by the looters in Karachi at Friday night. On the occasion, two-minute silence was also observed.
The pro-vice chancellor SU campus Thatta Prof. Dr. Rafique Ahmed Memon nominated by the vice chancellor supervised the test process and reviewed the arrangements before the start of the exam.
In a press briefing, Dr. Rafique Ahmed Memon said the test was held in a peaceful manner and 3840 male and 2028 female students from seven districts including Hyderabad, Jamshoro, Karachi, Matiari, Shaheed benazirabad, Tando Allahyar and Tando Muhammad Khan appeared in the test in first phase day one.
He said that 6006 candidates including 192 females will take the test on Sunday from the eight districts of the province including Badin, Dadu, Mirpurkhas, Sanghar, Sujawal, Tharparkar, Thatta and Umerkot in first phase day two.
He emphasized the need for youths to take interest in the higher education being imparted by SU for the development, progress and growth of the country.
He said that the purpose of conducting the entrance test in two phases was to stay safe from the deadly coronavirus and there might not be a great rush on the campus at the same time.
He said that a total number of 3073 candidates including 1748 male and 1325 female from Hyderabad district, 844 students including 581 male and 263 female from Jamshoro district, 57 candidates including 47 male and 10 female From Karachi districts, 600 candidates including 467 male and 133 female from Matiari district and 449 including 393 male and 56 female from Shaheed Benazirabad district, 621 candidates including 434 male and 187 female from Tando Allahyar district and 224 candidates including 170 male and 54 females from Tando Muhammad Khan district took part in the entrance test on the first day of the first phase.
On the other hand, during the entrance test, temporary medical dispensaries were set up outside the examination centers including Arts Faculty Building, Department of Media & communication Studies and an ambulance service was also arranged to deal with the emergency situation.
Strict security arrangements were made to avoid any untoward incident. Policemen, security guards of the SU were deployed; candidates were not allowed to bring cell phones inside the centre.
A very friendly and peaceful atmosphere was provided to the candidates. Focal persons from different campuses and deans of faculties were also present. The control room was set up in the office of Dean Faculty of Social Sciences Prof. Dr. Zareen Abbasi, where after reviewing the examination process, pro-vice chancellor Dr. Rafique Ahmed Memon, Director Admissions Dr. Ayaz Keerio, Dr. Arfana Begum Mallah, Dr. Agha Asad Noor, Dr. Imamuddin Khoso, Dr. Wazir Ali Baloch, Dr. Ghulam Ali Bariro, Dr. Altaf Nizamani, Dr. Zuhra Altaf, Dr. Sirajul Haq Kandhro, Muhammad Mashooque Siddiqui, Dr. Arbeela Agha, Dr. Naeem Tariq Narejo, Dr. Farida Sheikh and others arrived there.
The test was conducted by Sindh University Testing Centre (SUTC). Registrar Dr. Ghulam Muhammad Bhutto, Dr. Zulfiqar Zaidi and many other academic and administrative leaders also inspected the exam process.
On the other hand, an entrance test will be held on Sunday on the second day of the first phase, in which 6006 candidates including 4714 male and 1292 female will participate to try their luck for admissions.
According to the Director Admissions, 931 including 697 male and 234 female from Badin district, 1673 candidates including 1313 male and 361 female from Dadu district, 924 candidates including 649 male and 222 female from Mirpurkhas district, 125 candidates including 102 male and 23 female from Sujawal district, 563 candidates including 30 male and 33 female from Tharparkar district, 188 candidates including 150 male and 3 female from Thatta district and 650 candidates including 572 male and 78 female from Umerkot district will take the test.
The Director Admissions said that the University of Sindh will house as many as 9000 students in its 57 different bachelor degree programs, for which more than 25,000 candidates were trying their luck by appearing in the entrance test.
According to the director Sindh University Testing Center (SUTC) Dr. Aftab Chandio, the results of the phased entry test will be announced on the same day.
There were separate seating arrangements for the parents and relatives of the candidates who were provided with bottles of mineral water to drink. Candidates who took the test were also given bottles of drinking water and ball pans free of cost.
It may be noted that in the second phase (days three and four), the entrance test will be held on 6 and 7 November.