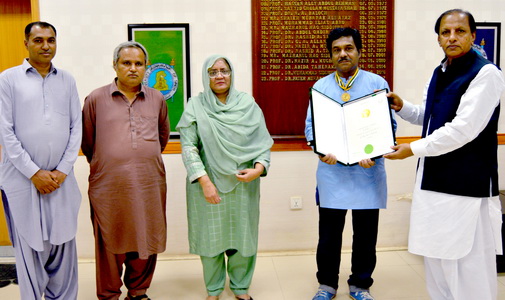 SU wins yet one more laurel as its faculty receives 'President's Pride of Performance Medal'
University of Sindh, Jamshoro has been a proud recipient of yet one more accolade as its faculty-Associate Professor, Department of Media and Communication Studies Dr. Zulfiqar Ali Qureshi has been conferred with the rare honor of 'President's Pride of Performance Medal' in recognition of his laudable services and contribution in the field of music and academic excellence in 'musicology': Ph.D. Musicology.
Dr. Qureshi called on Sindh University Acting Vice Chancellor Prof. Dr. Muhammad Siddique Kalhoro to share the happy tidings with him and to thank him for the unprecedented support to him by the University of Sindh.
Terming Dr. Qureshi's achievement a matter of pride for the Varsity; Dr. Kalhoro felicitated him on this outstanding, milestone accomplishment on behalf of SU teachers, officers, employees, and students and on his own behalf.
It would be appropriate to mention that Sindh University has been having a remarkable record of producing a human resource that has proven their mettle at the international front, winning exceptional global acclaim – Dr. Qureshi is yet another handsome addition to the long, historic list.
Dr. Zulfiqar Qureshi has innovated and modified Raag Moomal Rano as origin of South Asian Classical Raag and composed many tunes especially on Vaaee of Shah Abdul Latif Bhittai. His 25 research articles (related to music) have been published in national and international journals. His two books on the history of music in the subcontinent are under the process of publication. He belongs to the renowned "Gawaliar" dynasty of musicians that have also produced icons like Ustad Beebo Khan and Ustad Manzoor Ali Khan.
Dr. Qureshi, expressing his views on the occasion said that the credit for his rise to fame and for his being able to contribute, was all due to Sindh Varsity, who like an affectionate mother morally, financially, academically, and administratively nourished him to grow as successful and eminent as he that day was.
Dr. Qureshi said SU sent him to NCA Lahore for his doctorate, established the Department of Music and Performing Arts' to encourage him – always supported his career. "I dedicate this award to Sindh University he said.