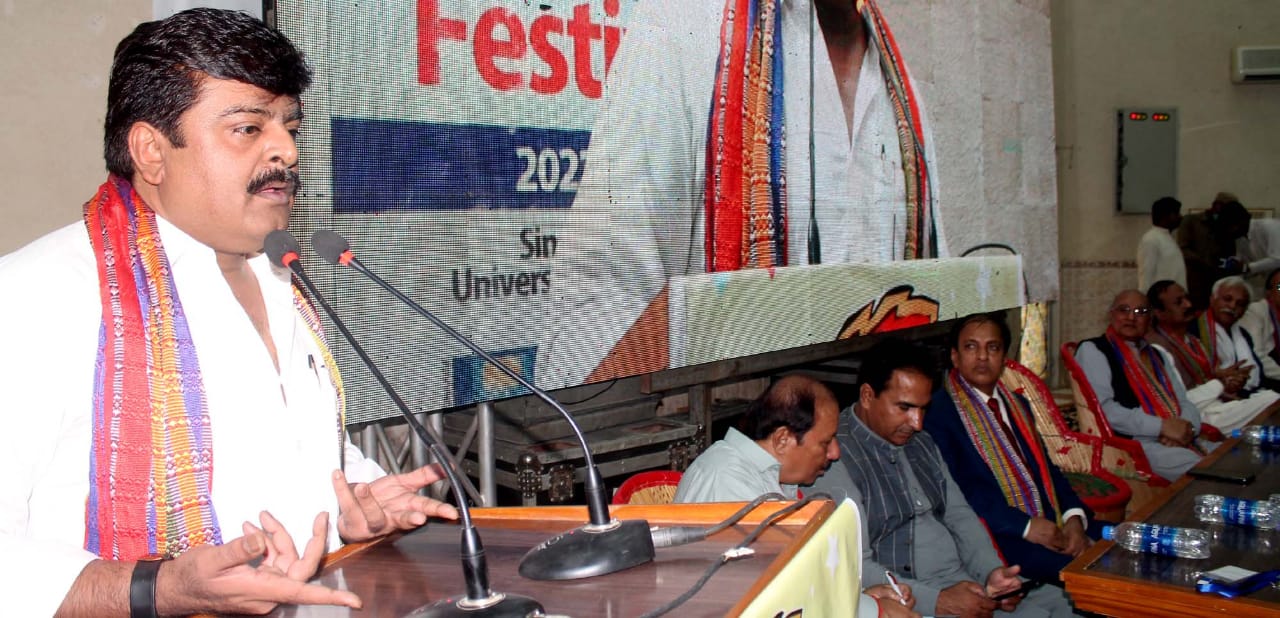 Sindhi Department organised poetry festival on world poetry day
Prominent poets and intellectuals of the country have said that poetry is an effective means of expressing emotions, which can greatly affect human life and that it is easy to convey one's message to the people effectively through rhyme.
They said that the interest of youth in poetry was declining due to non-organization of public poetry festivals by the various organizations while the poets read and listened to their own poetry at most gatherings without public participation; however, such programs were useless.
This they said while addressing the poetry Festival organized by the Department of Sindhi University of Sindh and Sarangaa literary and cultural society in Sheikh Ayaz Auditorium of Arts Faculty Building to mark the World Poetry Day(21 March 2022 ) here on Monday.
The poetry recital program [Mushaira] was presided over by the Vice-Chancellor Professor (Meritorious) Dr Muhammad Siddique Kalhoro, while the guests of honor were Sindh Minister for Culture and Education Syed Sardar Ali Shah and renowned Urdu poet Amjad Islam Amjad.
Addressing the program, The Vice-Chancellor Professor (Meritorious) Dr Muhammad Siddique Kalhoro said that Seraiki poetry along with Sindhi and Urdu was also presented in the mushaira which although, most of the young people sitting in the hall were incomprehensible, yet all the audience was enjoying the recital of poetry because of the poet's style of delivery of words.
"In fact, this is the perfection of poetry that when you don't understand it properly but you still resonate and rejoice", he said and added that provincial minister for culture and education Syed Sardar Ali Shah was doing a great job by organizing fairs and poetry recital events.
Renowned poet Amjad Islam Amjad said that poetry festival at SU was an extraordinary thing, such festivals should be held regularly. He said that there were two kinds of poetry- one could make the hearers feel like a lecture but the second type will take the listeners to a new world of feelings.
He said that in order to raise the standard of poetry, poets had to read world literature and rhymes. He said that a poet did not need to study in a university to compose poetry but it came from nature, the example of which was Shah Abdul Latif Bhittai.
He further said that Bhittai's poetry contained all kinds of things including love to God, beauty of nature, folk stories, observations, issues pertaining to people in societies, benedictions for prosperity of entire world and many more. Provincial minister and young poet Syed Sardar Ali Shah said that the gatherings in which the poets themselves sat, read and listened to their poetry were of no use.
"Only those poetry recital gatherings are vital where there is much public participation. Let's give the opportunities to youths to fully participate and listen to the poetry and give heartfelt appreciation to the poets as it is happening here today", he said.
He said the audience was showering appreciation and accolades from their hearts and it was not artificial as it happened in almost all other such gatherings adding that poetry originally began with a mother who silenced her crying child by singing a lullaby to him/her.
He said that there were many famous universities in the world including Oxford, Cambridge and Yale, but the focus of poetry had been on the rocky land of Jamshoro and Sindh University adding that this all was because of the romantic and poetic temperament of Sindhi people.
He said that he also wrote a poem while passing out from Mehran University as a graduate that "Jamshora pirein j paarat athai" (O Jamshoro! Kindly take care of my beloved), which later became very popular among the youth.He said that due to the pressure of parents and lack of proper career counseling, the youth studying in the universities of Jamshoro were often sad and they had no one to take away their sadness.
Sardar Shah further said that art and music were very important for a happy life and the youth could not spend a better time without loving poetry and melody.
He said that incidents of harassment in universities were unacceptable, if any case was defunct, it should be strongly dealt with, even the teacher if found involved in such things should also be expelled.
He said that the Sindhi society was not extremist but liberal and there was tolerance in it adding that communication with the world was no longer a problem these days.
"If after effective communication, the girls from abroad can reach Jamshoro to get married, then reading and understanding world literature is not a big problem", he said on a lighter note.
The minister said that it was important to read and understand modern literature of the world so as to get new ideas and novel things for composing better Sindhi poetry.
Dr Ishaq Samejo, Jami Chandio, Aakash Ansari, Naseer Mirza, commissioner Hyderabad division and others also spoke on the occasion. Renowned poets Ali Dost Aajiz, Khalil Kumbhar, jahangir mukhalis, Dr ishaq Samejo, Azhar kaliani, ali akash, ali izhar, ali zahid, aziz Gopang, mushtaq Gabol, ateeq jilani, waqar Ahmed waqar, Dr naveeda katper, shamim Mari, Kishor Humerani, and many others also attended the function.