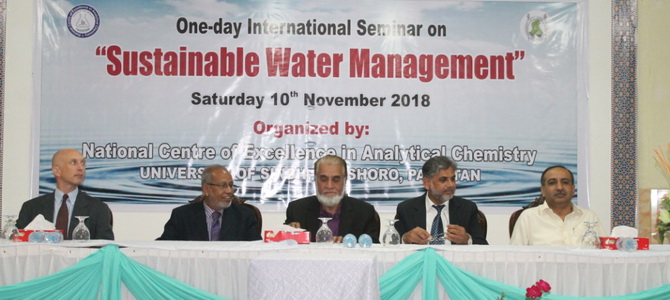 Speakers advocate strong political commitment, informed community participation and efficient use of technology as a panacea for world water crisis
Speakers have recommended strong political commitment on the part of government, public mainstreaming, awareness campaign, educating the masses, efficient use of technology and contingent management action plan as some effective remedies to tackle water crisis in the developing world including Pakistan.
This they said while speaking in One-day International seminar on 'Sustainable Water Management' organized by Centre of Excellence in Analytical Chemistry, University of Sindh, Jamshoro at Pir Hisamuddin Rashdi auditorium of Institute of Sindhology.
Eminent analytical chemistry expert and Professor of International Centre for Chemical and Biological Sciences, University of Karachi Prof. Dr. Muhammad Iqbal Bhangar was the Chief Guest on this eve; whereas, Prof. Dr. Jamaluddin Ahmed of University of Chitagong, Bangladesh, Dr. Fateh Muhammad Marri of Sindh Water Sector Improvement project, Government of Sindh, Dr. Jeffrey Layton Ullman of University of Utah, USA and Prof. Dr. Tasneem Gul Kazi of NCEAC, University of Sindh were the presenters of the moot.
Dr. Ahmed, in his erudite presentation said he was glad to have come to Pakistan for the seventeenth time to present his research deliberations.
Equating water to life, Dr. Ahmed added that 85 percent of human brain contained water, whereas 65 percent of human body also bore water; further observing that water had grown to be one of the most pressing global concerns.
"Out of total of 8 billion world people 5 billion people have died either due to shortage of water or because of water-borne diseases," Dr. Ahmed informed. He opined that water had become a potential factor that could trigger world war as almost all countries experienced severe water resource depletion. He further stated that the situation in the developing world was rather more serious as Pakistan, India, Bangladesh, Sri Lanka, Nepal, Bhutan and South Africa faced critical water shortfall.
"40 million people in Cape town are not allowed to store more than 87 liters of water. They are also not allowed to use drinking water for toilet and car-wash needs", Dr. Ahmed alarmed.
Dr. Bhangar asserted that 90 percent of all waste-water in the developing countries was discharged untreated directly into rivers, lakes and the sea; leading to human health threats.
Dr. Bhangar recommended stringent legislation in this regard, binding industries to release effluents after filtration through effluent treatment plants.
"Ever increasing population, rain deficit, mismanagement, poor storage and supply system, line losses and lack of education are a few other causes behind water crisis in Pakistan," Dr. Bhangar observed.
Dr. Marri remarked that Government of Sindh had recently launched an intensive as well as extensive consultation study to assess the entire water phenomena to formulate what he called 'Sindh Water Policy'.
Dr. Ullman, sharing his recent study, informed how very many pharmaceutics and personal care products furtively worked as pollutants and adversely affected ecological, human and marine life.
Dr. Ullman argued that ethical commitment to medical practice, dissemination of education, increased awareness regarding hazardous effects of drugs and cosmetics could serve as strong antidotes in the given context.
Dr. Kazi in her deliberations reported various levels of arsenic in drinking water, traced its effects on life in all forms and recommended that government should act to alleviate the menace.
Noted scientists Prof. Dr. Muhammad Yar Khuhawar and Prof. Dr. Haq Nawaz Bhatti prepared and presented the recommendations of the seminar.
Earlier, Prof. Dr. Shahabuddin Memon presented welcome note; whereas, seminar coordinator Dr. Najma Memon informed the audience about objectives of the moot.
At one point of the program, the distinguished guest presenters were decorated with traditional token of love and hospitality "Ajrak" and were given memento shields.
Dr. Huma Muddasir of NCEAC moderated the proceedings of the seminar.