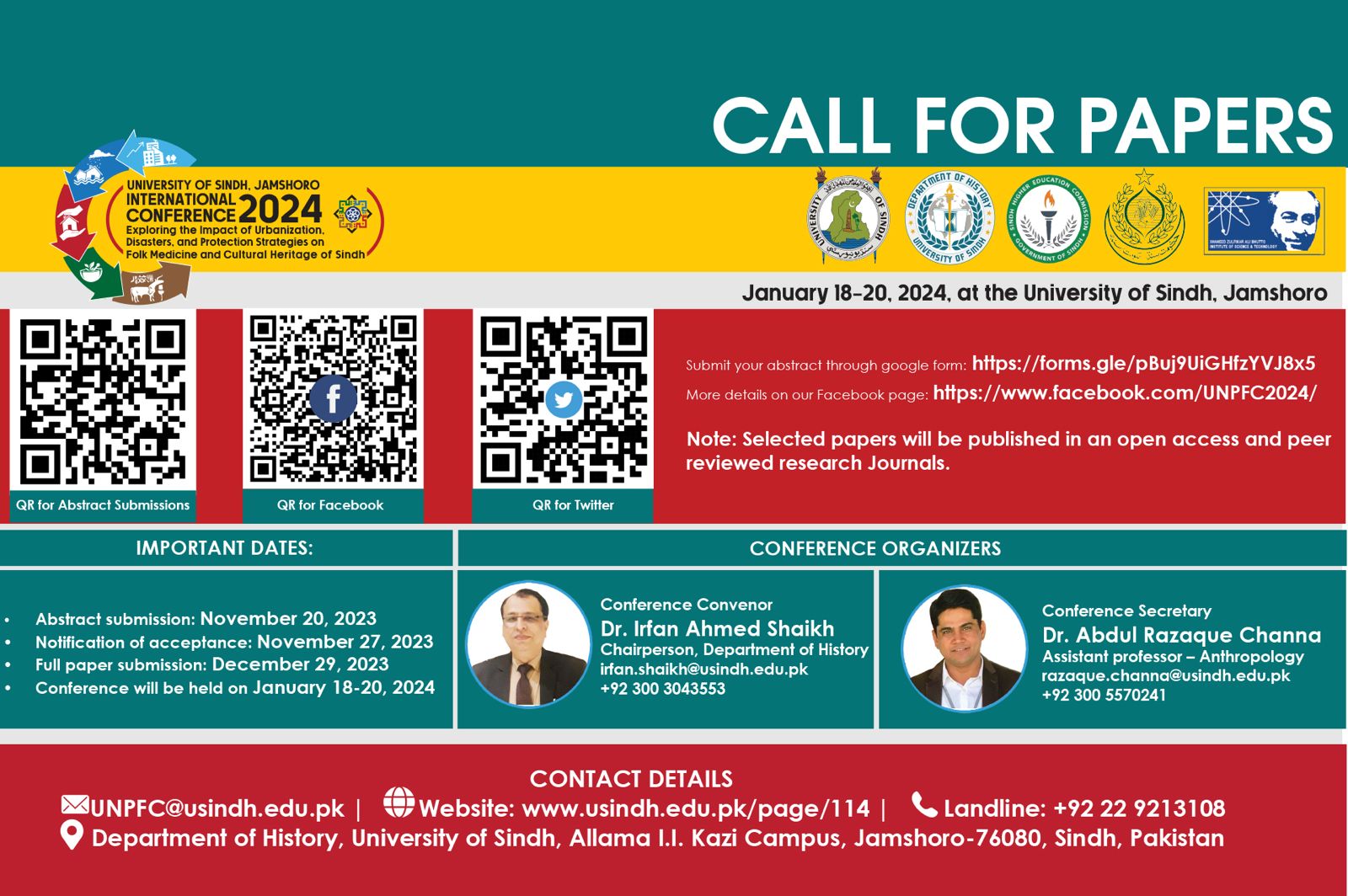 Call for Paper - 1st Three-day International conference on "Exploring the Impact of Urbanization, Disasters, and Protection Strategies on Folk Medicine and Cultural Heritage of Sindh"
The three days international conference on "Exploring the Impact of Urbanization, Disasters, and Protection Strategies on Folk Medicine and Cultural Heritage of Sindh" is organised in the background of 2022 flood induced disaster as well as COVID-19 global pandemic. Pakistan has faced significant challenges due to climate change, with over 33 million people being internally displaced by floods, which have become more frequent and intense. Despite being responsible for less than 1% of global greenhouse gas emissions, Pakistan is ranked as the eighth most vulnerable nation to the climate crisis, according to the Global Climate Risk Index. There has been debate and studies on human and infrastructure loss, but there is no discussion that responds to the question of the exclusion of perspectives on addressing the impact of change on traditional and folk medicine and cultural heritage of Sindh in general.
The aim of the conference is to provide a comprehensive platform for researchers, academics, practitioners, policymakers, Hakims, and community stakeholders to come together and delve into various aspects related to the preservation and promotion of Sindh's traditional medicine and cultural heritage in its broader framework that includes tangible and intangible heritage. The conference will examine the ways in which the forces of urbanization and disasters have posed a threat to indigenous knowledge, heritage, urban spatiality and aesthetics and investigate protection strategies.
This conference marks a significant milestone as it pioneers a tradition of interdisciplinary collaboration across fields from History, Cultural, Urban, and Medical Anthropology, Archaeology, Disaster Management, Heritage studies, Agriculture, and Physiology. The conference is organised by Department of History, the University of Sindh, Jamshoro in collaboration with Sindh-HEC.
Themes:
Past, Present and Future of Folk Medicine and Cultural Heritage of Sindh
Urbanization and the Issues of Preservation of Cultural heritage – natural-cultural heritage, urban governance, materiality and design etc.
Safeguarding Heritage: Community engagement, social movements and advocacy
Folklore, ecological knowledge, resilience and sustainability
Folk Medicine, Folk wisdom and future challenges due to disasters
Natural Disasters and indigenous Healthcare system
Protection Strategies for Indigenous Wisdom and folk medicines
Traditional Practitioners and folk medicines preservation
Museums, arts and music addressing the issues of climate change and protection of nature
Education and Awareness for cultural Heritage Preservation
Digital Innovations in Cultural Conservation
Gender dynamics of Folk Medicine and Cultural Heritage of Sindh
Contemporary debates in Community medicine, Public Health, Medical Anthropology and Eastern Medicines
Important Dates:
• Abstract submission: November 30, 2023
• Notification of acceptance: December05, 2023
• Last date for full paper submission: December 29, 2023
• Conference will be held on January 18-20, 2024, University of Sindh, Jamshoro
Submit your abstract through google form: https://forms.gle/pBuj9UiGHfzYVJ8x5
Follow conference FB page for updates: https://www.facebook.com/UNPFC2024/
Conference Website: https://usindh.edu.pk/unpfc2024/
Note: Selected papers will be published in an open access, peer reviewed research Journals.
Conference Convenor
Dr. Irfan Ahmed Shaikh
Chairperson, Department of History
+92 334 3291627
Conference Secretary
Dr. Abdul Razaque Channa
Assistant professor – Anthropology
Razaque.channa@usindh.edu.pk
+92 300 5570241