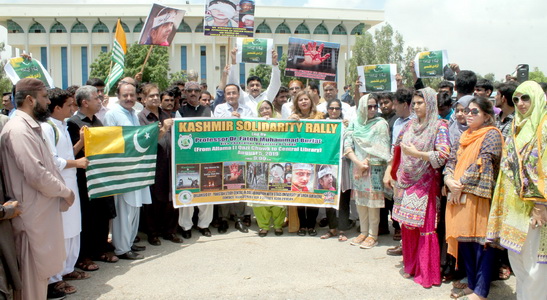 SU comes alive and animated to PM's call for Kashmir
Pursuant to the call of Prime Minister of Pakistan, University of Sindh, Jamshoro held a massive Kashmir solidarity rally under the theme "One Nation-One Voice; Kashmir Hour; Let us Stand Still for Kashmir".
Led by SU Vice Chancellor Prof. Dr. Fateh Muhammad Burfat, various SU campus pro vice chancellors, deans, academic and administrative heads, hundreds of faculty, scores of officers, swelling number of employees and thousands of students; the rally set off from the varsity's Allama I.I.Kazi round-about to Allama I.I.Kazi central library amid ear-splitting slogans of "Kashmir Shall be Pakistan", "We stand in support of Kashmir's rightful struggle", and "Our struggle shall continue until Kashmir becomes Independent" by swarming wave of varsity stakeholders; displaying zeal beating suffocating, sweltering, excessive heat under inclement mid-day blazing sun.
Vice Chancellor, Prof. Dr. Fateh Muhammad Burfat in his media interface on the occasion, lambasted against Indian government for its unconstitutional, unilateral actions including blatant violations around line of control.
"We vehemently slam round-the-clock atrocities inflicted upon our Kashmiri brethren by the oppressive Indian military machine; we also register strong protest against forced communication shut down, brutal curfew in the valley and willful criminal denial of access to medical assistance to Kashmirs by Indian troops", Dr. Burfat asserted.
The rally called upon world conscience and all international competent forums for immediate tangible interventions, cutting across all formidable forms of oppression perpetrated by the Indian wolfish apparati.
The rally culminated at a unanimous note, pledging loud and clear that people of Pakistan were standing shoulder by shoulder with their valiant Kashmiri brothers and sisters, with the government of Pakistan and armed forces of their dear homeland.
On the occasion, students of Dr. N.A Baloch Model School Hyderabad presented national anthems of Pakistan and Kashmir along with skits showcasing incidents of Indian oppression in the occupied valley.