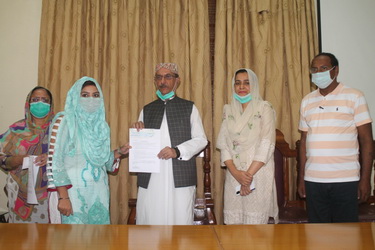 SU Vice Chancellor Prof. Dr. Fateh Muhammaf Burfat terms charges against "a pack of lies" concoted by his opponents, insists to have served SU conscientiously, distributes scholarship cheques
SU Vice Chancellor Prof. Dr. Fateh Muhammaf Burfat, nullifying all charges against him, has termed the ACE investigation report against him as "bogus and mala fide", and has declared it as a part of a vendetta campaign launched by some disgruntled elements as a result of the reform and development initiatives he has been able to implement at the Varsity in the last three and a half years.
" I have thought of SU as my benevolent mother and have served it to the best of my ability and conscience", reiterated the VC.
This Dr. Burfat said in his capacity as Chief Guest on the occasion of cheque distribution ceremony organized at Senate Hall of the Vice Chancellor Secretariat Students' Financial Aid Office (SFAO) in which as many as 1313 students of Sindh University from across various departments /institutes were given away scholarship cheques on the poverty-need-and-merit basis under the aegis of Government of Pakistan's Prime Minister Ehsas Undergraduate Scholarship Programme — each scholarship is worth PKR 40, 000 per anum. Approximately 2481 SU students had applied for the said award. However, 1313 made it to wining this stipend.
The Vice Chancellor observed that during his tenure, the academic process had gone on uninterrupted, the infrastructure had been revamped to match international standards, the Varsity improved its ranking at national and global levels, admission, attendance and examination systems were brought to virtual mode giving SU world class best practices, use of unfair means in college examinations had been nabbed, international conferences were held and a number of other such innovations were effected.
" When some elements in and outside the University saw the Varsity scaling ever new heights of success and glory they became my bitter rivals and began hatching conspiracies to upset and fail me so that I lose focus. But I tell them categorically that they are not going to see their nefarious designs materialize in any form whatsoever", Dr. Burfat stressed.
Dr. Burfat said not a single penny he had spent on his foreign trips, adding that the very thought and prospect of any financial embezzlement was beyond imagination in an institution that received so meager a budget that it could hardly pay salaries.
He slammed the arrest of SU faculty Dr. Asghar Hakro and expressed exasperation over the unbecoming fashion in which Dr. Hakro was shown standing with handcuffs on his arms and an average-grade officer of the Anti-corruption department sitting as if he were an emperor ruling the entire stretch of land.
Dr. Burfat congratulated the successful students, expressed gratitude to HEC representatives and civil society leaders for help on the committee, and eulogized the efforts of SFAO director Dr. Fiza Qureshi and her team for the completion of the selection process through an efficient and fool-proof mechanism.
SU Registrar Dr. Ameer Ali Abro, Dean Faculty of Social Sciences Prof. Dr.Zareen Abbasi, Dean Arts Prof. Dr. Anwar Figar Hakro, and other senior officials were present on the occasion.