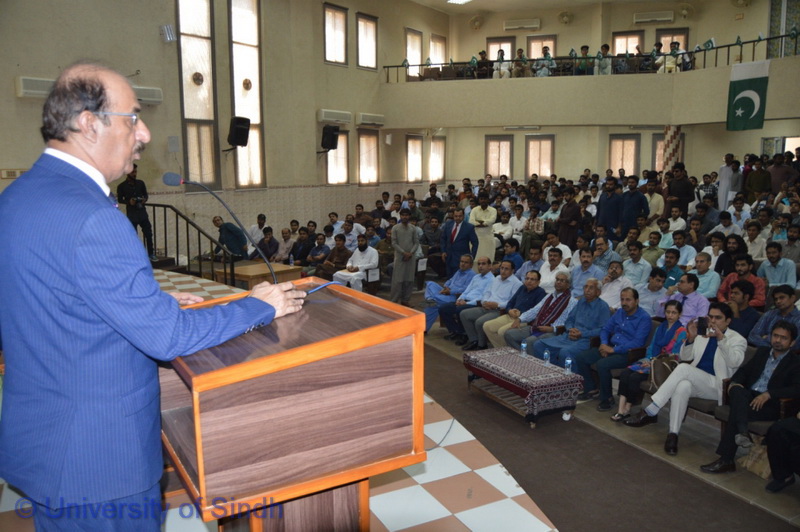 Eminent historian Dr. Mubarak Ali stresses pro-people presentation of history in a seminar at SU
Annals encompassing popular characters, incidents, themes, folklore, social features, economic profiling, public sentiment, culture, civilization and contribution of common man to society alone qualify as an authentic version of history. Mere glorification of royals, elite and the rich would be all but biased, misrepresented, concocted and fabricated form of the same. This was the upshot of the lecture on "Writing of History and Society" delivered by noted historian Dr. Mubarak Ali as program keynote speaker at SU.
Presided over by Vice Chancellor Prof. Dr. Fateh Muhammad Burfat, the event was organized by SU Department of Sociology at Shaikh Ayaz auditorium of Faculty of Arts of the Varsity to help students gain fresh insights on the given topic from the most authentic and veteran voice available in the country i.e. Dr. Mubarak Ali.
Dr. Burfat in his presidential remarks said history should premise itself on irrefutable evidence. It should not emerge merely out of author's fancy or fantasy.
"Dr. Mubarak Ali is an unprecedented individual in his given field with an incisive insight, extensive reading, unchallengeable competence and unparalleled professional acumen; who has brought to limelight many a dormant dimension of otherwise neglected characters, themes and incidents", the Vice Chancellor stressed.
Dr. Burfat further observed that history-writing was a painstaking, meticulous and sensitive vocation that called for depth of observation, incisiveness of analysis, objectivity of outlook and willingness for solid hard labor.
"I am glad to share legendary Dr. Mubarak Ali has abundantly exhibited all above traits in his historical narratives in his all books", Dr. Burfat added.
The Vice Chancellor maintained he was proud of the fact that Dr. Mubarak Ali was alumnus of University of Sindh, Jamshoro both as student and faculty.
Dr. Mubarak Ali, in his highly erudite, thought-provoking and attention-arresting lecture said three things- 'incidents, evidence and referencing' served as fundamental principles in writing of history.
Tracing historical evolution of history itself and citing several 18th and 19th century German historians, the speaker adopted the stance that, in its infancy and adolescence; history served merely as a record of royal feats and accounts of their personal lives. Later, some German historians re-directed its focus to common courses and sociological nuances of life. It was during the given turning point that public sentiment, mass life, folklore, non-elite characters, rustic themes and simple aspects of life came to be recorded and valued by historians.
"History in its entirety has remained heavily gender-biased; a mere glorification of patriarchy with a deliberate intent to effacing all that has been feminine.
"Archeology, architecture, politics, wars, history, science, arts, philosophy; take example of any other such branch of knowledge; you find all laden with celebration of masculine muscle, might, and mind; even when some female characters like Razia Sultana and others have reluctantly been recorded there too their those attributes have been applauded that were men-like in nature", the iconic speaker said.
Earlier, Chairman, Department of Sociology Prof. Dr. Aijaz Ali Wassan presented welcome note in which he expressed gratitude to VC-SU Prof. Dr. Fateh Muhammad Burfat for patronage and support and also thanked renowned intellectual Abdul Khaliq Junejo and Prof. Dr. Munira Junejo for their help, support and coordination towards organizing the lecture program.
Highly animated question-answer episode marked the closure of the program.
Those who were in attendance included Dean, Faculty of Social Sciences Prof. Dr. Zareen Abbasi, SU Registrar Dr. Ameer Ali Abro, academic and administrative heads, scholars, historians, hundreds of students and civil society activists.
Faculty from Department of Sociology Dr. Passand Ali Khoso moderated the proceedings of the program.