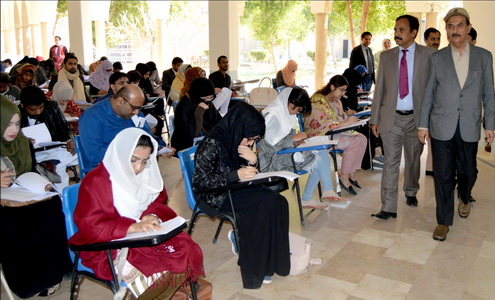 SU conducts MS/ M.Phil pre-entrance test for 47 academic disciplines in a felicitous manner
The pre-entry test for admission to the MS/ M. Phil. Degree Programs in various departments/ institutes for the academic year 2020 was held in a smooth, successful, and transparent manner amid a conducive, efficient and welcoming environment at the Arts Faculty Building and Institute of Commerce premises of the University's main campus at Jamshoro under the aegis of the varsity's Testing Centre. As many as 2072 candidates tried their luck to seek placement in 47 academic disciplines as per their respective preferences.
VC-SU Prof. Dr. Fateh Muhammad Burfat accompanied by deans of various faculties visited all examination blocks to personally observe the proceedings of the event. He expressed satisfaction over the brilliant arrangements made by the test team and registered special appreciation for SU Registrar Dr. Ameer Ali Abro SU Director Research and Graduate Studies Prof. Dr. Sarfraz Ali Tunio and Director SU Testing Centre Prof. Dr. Riaz Ahmed Memon for having put in place excellent planning, perfect preparations and first-rate execution of the test. He also thanked the deans and other senior university faculty, officers, and employees for their continued support.
In his remarks given on the occasion, Dr. Burfat said that it was a historic day as Sindh University was conducting a pre-entry test for admissions to MS/ M. Phil. Degree Programs in a befitting way one more time. He said, "I am happy to see 2072 mature, mid-career, in-service as well as fresh graduate scholars reposing their trust and confidence in the University of Sindh.
" I will make sure that we provide the selected scholars the best possible research facilities and culture at the varsity", the vice Chancellor asserted.
He said that the university evaluated test arrangements every year to learn from the experiences; dilating that on the basis of past experience, special new arrangements had been made this year to further facilitate the candidates and their accompanying kith & kin at the campus.
Fool-proof security cover, installation of walk-through gates at key points and entrance of the test venue, seating plan sheets distribution, guidance counters, provision of stationery, availability of drinking water, pick and drop facility, setting up of emergency medical camps, and other candidate-friendly arrangements were ensured by the university administration on this occasion.