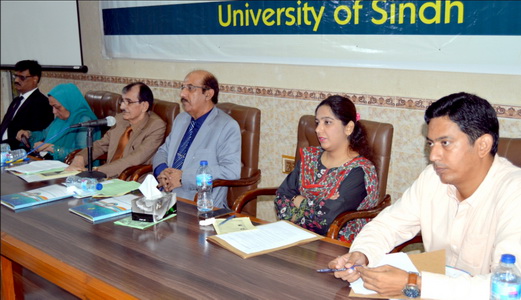 Speakers slam Indian atrocities in Kashmir, call for global intervention
peakers have vociferously slammed unprecedented atrocities committed by Indian armed forces in Kashmir. They have called out to world human conscience to intervene, bridle India from its jingoistic, war-mongering mindset and behave as a responsible nuke state; terming Kashmir "a potential flashpoint of strategic tension".
This they said in a seminar organized by Rabita Forum International in collaboration with Bureau Of Students, Tutorial Guidance Counseling Services & Co-Curricular Activities (STAGS) University of Sindh, Jamshoro at Shaikh Ayaz auditorium of the varsity's Faculty of Arts. The event was presided over by SU Vice Chancellor Prof. Dr. Fateh Muhammad Burfat.
Dr. Burfat in his presidential address said that Kashmir served as Pakistan's vocal cord. The hearts of people of Kashmir and of Pakistan throbbed in unison; adding that they stood shoulder by shoulder with their Kashmiri brethren in their just struggle for liberation.
"The story of Kashmir is a painful saga of blatant and brazen violations of human rights mocking all laws. The history of Indian afflictions in Kashmir is bathed in blood – characterized by gory, grim, inhuman incidents of worst kind. This saga has turned most tragic and alarming in the past two months. The international human rights organizations and other political forums should play their role to shield innocent Kashmiri people from wolfish Indian attitude", the Vice Chancellor stressed.
Chairman Rabita Forum International Nusrat Mirza observed that SU was his Alma mater. This was where he had studied and that he was immensely glad to have been home no matter howsoever briefly.
Punctuating his discourse with research references; and staying within the framework of the topic of his talk 'Any Nuclear Eventuality is Dangerous to Humanity' Mr. Mirza opined that prospect of nuke war was a potential threat to the world peace. "India must not misread Pakistan's responsible stand as a weakness. If brought to respond, Pakistan would retaliate in a telling manner enough for the foe never to dare advance again", Mr. Mirza urged.
Chairperson, Centre for Policy and Area Studies, University of Karachi Prof. Dr. Tanweer Khalid in her talk on 'The Kashmir Conflict, Pakistan and Path of Peace', citing support from the history of measures made to resolve the dispute; pleaded that unlike India Pakistan had always showed flexibility of attitude, willingness to dialogue at all forums and a clear-cut resolve to fetch peaceful solution to the issue. On the contrary, India had always evaded all three.
"Indian civil and military belligerence can jeopardize global peace. The world actors must stop India from venturing into any such misled and myopic misadventure", Dr. Khalid said.
Dr. Sumera Umrani in her talk on 'Indian Violations of U.N. Charters and Bilateral Agreements' remarked that India had tended to dishonor resolutions of the United Nations Security Council and right from 1948 till today, it has kept on doing so; which was very unfortunate, unbecoming and improper.
Dr. Umrani, substantiating her speech content with historical evidence, advocated as to how India backed out on all its commitments, made in the right earnest in the given context.
Earlier, national anthem and patriotic songs were presented. Zafar Imam moderated the proceedings of the seminar.