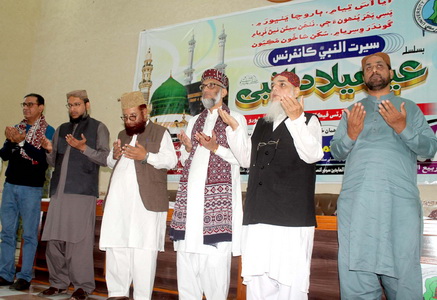 Scholars at a Seerat Conference at SU urge restraint and tolerance
Scholars have urged upon people to practice and profess golden principles of Islam restraint, tolerance, love, mercy and peace as manifested by the Holy Prophet Muhammad (PBUH) through his attitude, behavior and various ways of life.
This the scholars said in their keynote speeches at a moot convened by Sindh University's Institute Languages with dean, faculty of arts Prof. Dr. Hafiz Abdul Ghani Shaikh in the chair.
Dr. Shaikh in his presidential remarks said that discussion regarding any of the aspects of Prophet (SAWW's) life was a source of heart's comfort and solace.
"We can transform our lives here and here-after by acting upon the ethical codes prescribed by the beloved Messenger of Allah," Dr. Shaikh stated.
Noted scholar Sahibzada Abdul Khair Muhammad Zubair Al-Azhari said that the life of Holy Prophet Muhammad (PBUH) was a practical version of the sacred theoretical teachings of the glorious Quran.
"We see violence, unrest, broken families, anarchy, divide, dispute, armed clashes, turmoil, agitation crime and intolerance. This is because we have, somehow, begun losing our focus on "Uswae-Hassana" – the highest moral ideals acted upon and emphasized by the Prophet (PBUH).
Famous religious researcher Prof. Dr. Ghulam Abbas Qadri said that Allah sent Hazrat Muhammad SAWW as both benefactor and teacher for the mankind.
"Every small or big act that Rasool-e-Maqbool SAWW ever performed in his life, serves for us all men, as a great lesson; acting upon which we can be positive, productive and beneficial to entire humanity", Dr. Abbas opined.
Eminent man of letters Prof. Dr. Sahibzada Uzair Mehmood Al-Azhari said that those who implemented in their lives the ethical etiquette propounded by the exalted Prophet stood redeemed as they fell under the protective canopy of the bliss of Prophet Muhammad.
Citing illustrations from everyday science, Dr. Uzair elucidated how closeness to Prophet Muhammad transfigured man's life for the better.
Earlier, Director Institute of Languages Prof. Dr. Zain-ul-Aabideen Sodhar presented a welcome note.
SU Institute of English Language and Literature senior faculty and SU media Incharge Dr. Ghulam Ali Buriro moderated the proceedings of the moot.
Deans Prof. Dr. Abdul Rasool Abbasi and Prof. Dr. Zareen Abbasi, SU syndicate Prof. Dr. Arfana Begum Mallah, administrative and academic heads, faculty, scholars, prominent varsity officials, researchers and students in great numbers participated in the conference.