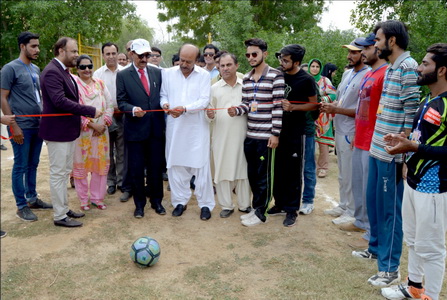 Pro chancellor Nisar Ahmed Khuhro visits SU
Sindh Minister for Universities and Boards Department and Pro Chancellor general and engineering universities in Sindh Nisar Ahmed Khuhro visited SU. The occasion also marked meeting between the visiting minister and SU vice chancellor in which matters relating to academic, research and professional development were discussed in detail.
Minister Khuhro also witnessed firsthand as Chief Guest games that were going on at Hyder Bux Jatoi Pavilion of the varsity as part of 3-day IBA sports Festival 2019. Mr. Khuhro also inaugurated soccer match on the occasion.
Dr. Burfat informed minister Khuhro that SU housed international level sports setting and that it provided its boys and girls students the best possible sports facilities. The distinguished guest registered his applause for the keen efforts taken by SU under able leadership of VC Dr. Burfat.
Later, the Vice Chancellor and minister Mr. Nisar Ahmed Khuhro toured entire SU campus, appreciating beautification measures made by SU Vice Chancellor and his team.