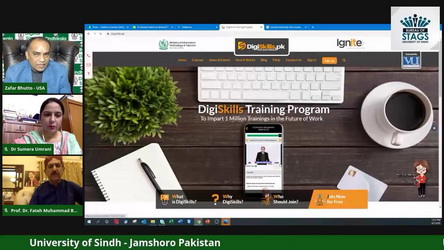 Webinar on global-market youth employment opportunities held at SU, VC-SU Prof. Dr. Fateh Muhammad Burfat presides over the event
The world we reside in stays in a state of constant change. What might be there one day may not be there the following day. Look at what has happened after the outbreak of Covid-19. The changes that we have seen mark an unusual epoch in our lives. I regard these advancements as technological in nature. With most of the world in lockdown due to the pandemic, people have fast started shifting to working from home — students are learning from home in an online format. Every other day, we keep receiving endless string of advertisements flashing upon our cellphone screens from innumerable offices and businesses seeking to convince us into buying their stuff. This is the new, bold, aggressive online world in which only the fittest will survive.
This said SU vice chancellor Prof. Dr. Fateh Muhammad Burfat in his presidential address on the occasion of a guidance webinar for students on the theme "Earning Opportunities for the Youth in Global Market" organised by the Varsity's Bureau of Students Tutorial Guidance / Counseling Services and Co-curricular Activities (STAGS).
Dr. Burfat proudly shared that Sindh University was the only public university to have obtained self-sufficiency in IT domain as it had already developed online admission system, online attendance system for students, online documentation system, online examination form submission system, E-portal for students to access all required information, centralized digital library facilities and the recent development of its own independent and efficient Learning Management System under HEC directives as a platform to duccessfully operate virtual teaching-learning practice.
"The fruitful exercise of internet surfing and exploring books on "Work from Home" paradigm informs us that we can easily get out of the common, beaten rut of traditional office jobs and can enjoy working online as bloggers, consultants, speakers, solo data surveyors, member focus group survey teams, employees in multiple international database outlets and social media channels including Amazon, Dell, Facebook, Twitter, Instagram, Google, Microsoft and others. Besides, we can also run schools, home-shops and scores of sales-and-purchase businesses, using secure transaction platforms such as Fully-Verified", the vice chancellor stressed.
Dr. Burfat lauded the efforts of Bureau of STAGS towards grooming youth to become globally competitive and compatible individuals in a fast-change world dominated by techonology-use through virtual means; registered special appreciation for the Bureau Director Dr. Sumera Umrani and her leadership acumen.
On the occasion, the vice chancellor, honoring on-the-spot pressing request of SU students in attendance in the webinar, also announced waiving off hostel, sports and transport fees in the wake of ongoing pandemic to ease financial stress on students.
International Resource Person – representatative of a cluster of Texas-USA-based Information Technology companies, consultant to multiple Pakistan Telecommunication Limited-sponsored telecom firms in Pakistan and SU alumnus Mr. Zafarullah Bhutto in his presentation said that honest labor, dedicated effort, toil, tenacity and aptitude to learn and embrace all new that came along served as secrets of success in life.
"Look at my example : I am a man of humble background hailing from a small town in Sindh – Pano Aaqil, yet I have made it as big as I today serve in some of the most prestigious telecom firms around the globe including the US", Mr. Bhutto said.
The learned speaker further said that youth can capture international employment market by developing immaculate skills in event-management, management planning, writing, digital marketing, graphic designing and by setting up personal YouTube channel.
Earlier, Director, Bureau of STAGS and webinar moderator Dr. Sumera Umrani presented welcome note, introduced the speaker and shed light on the objectives of the webinar, observing that the Bureau had an eventful annual calendar with programmes cutting-across comprehensive co-curricular and extra-curricular features inclusive of youth needs, interests and preferences. She thanked the vice chancellor for his kind all-time encouragement and expressed gratitude to the day's Speaker Mr. Bhutto.