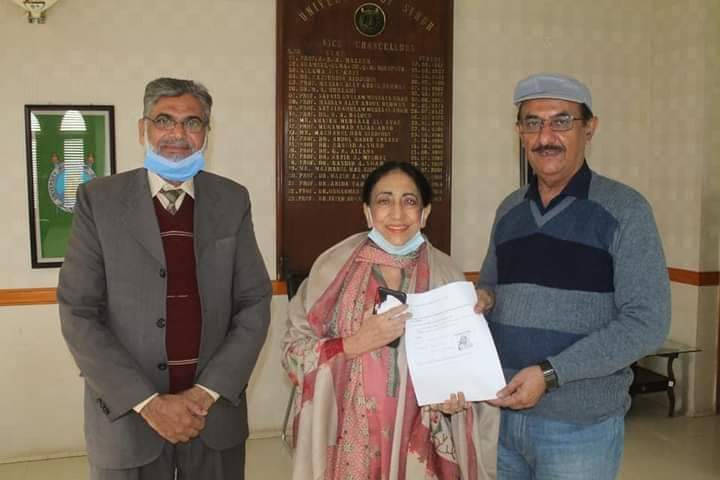 SU professor receives award in field of analytical chemistry across globe, calls on VC Dr Burfat
SU professor receives award in field of analytical chemistry across globe, calls on VC Dr Burfat
JAMSHORO: The Power List 2020 has issued the names of 81 scientists in the field of analytical chemistry around the globe wherein the professor of Centre of Excellence in Analytical Chemistry, University of Sindh Dr Tasneem Kazi has been given first award.
The Power List 2020- an organization of analytical scientists had the names of scientists from Asia, Africa, Australia, Europe, North America and South America and in cut-throat competition based on research, as many as 81 scientists were included for the award, giving away the first one to Dr Tasneem Kazi.
After receiving award, the professor called on the vice chancellor Prof. Dr. Fateh Muhammad Burfat and apprised him of her achievement and award. The VC congratulated her on grabbing first award and brightening the name of the University of Sindh across the world.
He said that after joining SU back in 2017, he introduced research culture and brought a number of reforms to strengthen the skills and abilities of teachers, which he said resulted in accomplishment of Dr Tasneem Kazi.
He said that more steps were being taken to bring the University of Sindh at par with other international universities and to enable faculty members to stand on their feet in terms of conducting quality research.
He observed that from the Amazon Rainforest to the Great Wall of China, analytical scientists hid in every nook and cranny of the wonderful world including that of Pakistan – and each had a story to tell.
"This year's Power List tells a handful of those stories (10 per continent, to be precise). As usual, winners were nominated by the readers and whittled down by a panel of independent judges", he said and added that Dr Kazi proved that the faculty members of Sindh Varsity were not at back from the scientists of international repute.